Man, it's been a while…again. I keep making a plan for how to keep the blog up to date and then somehow those plans never quite work out. Something always comes up and for us at this stage in the game urgent comes first. But, I love having you guys along so as a quick catch up on life around here, I thought I'd just post some pictures and short descriptions. Does that work? Good. Here we go.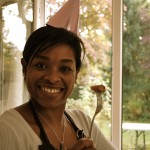 Yours truly turned 35! We celebrated at home with good eating and lots of down time- 2 of my favorite things. In the morning I opened up gifts from friends from home and from Ian and the kids. Â After everyone got home from school Ian made a big lunch for all of us, we took a walk with the kids and then came home and ate cake. As I was talking to my mom on the phone her gift came in the mail. I though that was really neat.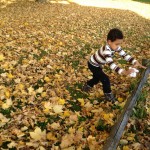 Fall arrived here in Germany. For the past month or so we've put all of our shorts and t-shirts away and we can not leave the house without an extra layer. There are lots of beautiful leaves falling all over the place. When it's sunny we try to get out of the house and burn off some energy. But, just as we were enjoying fall weather…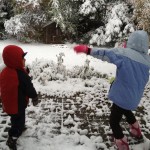 Snow arrived! It was such a cool surprise. The kids were really excited and were anxious to put on their snow gear. They got all in the snow and at one point we spoted Jude face down in the snow making snow angels. We've heard it's pretty unseasonal to have snow so early, but it most certainly feels like winter here (or as I know it anyways).
Our Halloween was a little different this year. We talked a lot about Reformation Day
and we went to  a church in the downtown of Augsburg where Martin Luther stayed while he was asked to recant his 95 Theses. After that we came back home and let the kids get creative and dress up from their closets and had a candy hunt. Ellison decided to be a flower fairy and Jude used his Peter Pan costume. The kids had a great time and were perfectly content until our door bell rang later on in the evening. It turns out that some people do trick or treat here (whoops) but it's not nearly what it is in the US.
I hope all is well on your side of the screen. I'm going to try and write again this week, but please don't hold your breath for that one.
Have a great week!