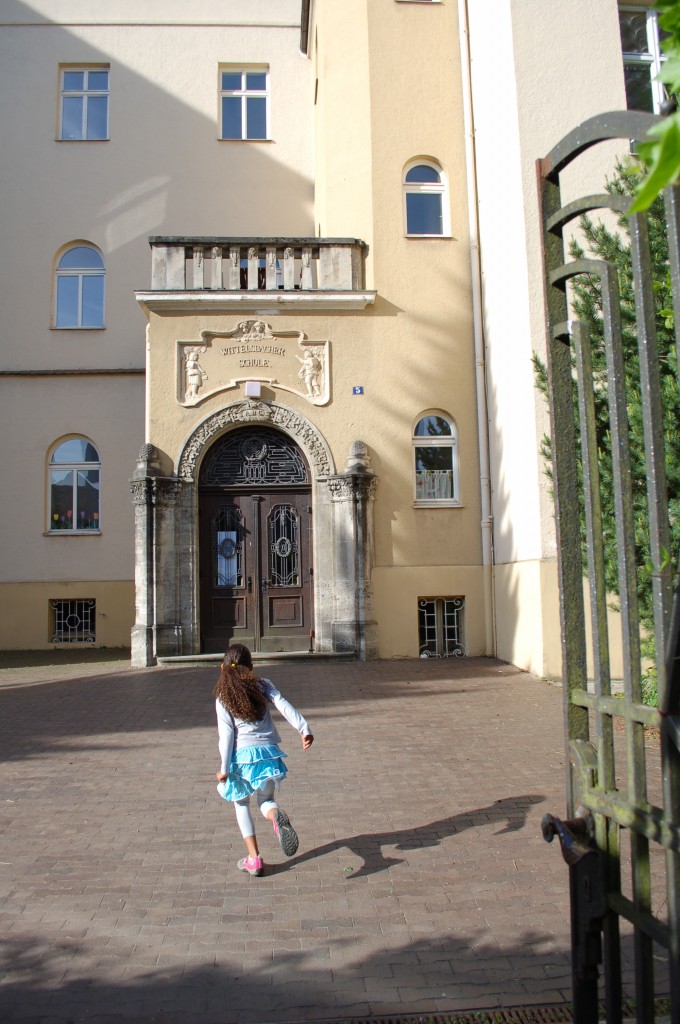 So…today was Ellison's first day of school. I've had so many mixed emotions leading up to this, but honestly today I felt at peace. So many of your have been praying for this transition and I really know that God honored your prayers and they were felt today.
Last week we went to the school board and they enrolled Ellison in an ubergangsklasse. This class is a special class for children who come from abroad and who do not know any German. That is a HUGE benefit for Ellison! All along I'd been envisioning that she would be going into a class with native German speakers just having to hold her own, but this alone is a big blessing. All weekend long she's been showing everyone her bookbag filled with all of her supplies but this morning she was very nervous as the actual day arrived.
We tried as best we could to calm her fears and to remind her that she would not be alone even though we were not with her. As she walked out the door she was greeted by some signs that her daddy made for her last night.
These really helped to lighten the mood and she was smiling on the walk to the car. On the drive in, we listened to our Seeds of Courage CD (love this resource!!) and she was singing right along.
We loaded up the whole clan pretty early and headed in because the school is out of our zone and it takes about 25 minutes to get there. We got there so early that we stopped into a local bakery and had a second breakfast :-). I'm really glad we had this time with her to relax and that she didn't feel rushed.
After breakfast, we all walked her up to her class which is on the 4th floor. After we caught our breath, we walked towards the class and waited our turn to meet her teacher who was talking to another new little boy from Romania starting today as well. When she saw Ellison she said "Hello Ellison. It's so nice to meet you." In perfect English! This put her at ease and she smiled so big! The teacher then told us that she would respond to Ellison in German and that she will allow Ellison to use English for the first few weeks. Gradually the teacher will move Ellison towards only using German to ask for what she needs and responding to questions.
School here ends at 11:20 on M,W and F (and 12:30 on T,Th) so we just ran some errands around the city and headed back to pick her up. When I met her at her classroom she was still smiling and said that it had been a good day. We talked about some tough moments (people whispering and her getting confused after snack time about where to go) but we also talked about some great parts of the day too. She actually wants to go back tomorrow so we are considering that a very good thing!
Thanks for continuing to pray for her quick language development so that she can interact with her new classmates and begin to really feel a part.
*BTW- The school year goes until the end of July and picks back up in September.